"Fragmented," built on site in the Emily Davis Gallery for the 2017 Myers School of Art Faculty, Akron, Ohio.
---
Series of preliminary studies for exhibition "Come Along With Me", Columbus, Ohio, 2017.
"Curated by Richard Fletcher, associate professor in the Department of Classics at The Ohio State University, this is the fourth curated collaboration between the Riffe Gallery and Ohio Art League (OAL). The selected artworks represent a range of media from painting, sculpture, photography, video, and site-specific assemblages.
Fletcher has dedicated his recent research and teaching practices to how ancient literature, philosophy, and mythology can be reactivated through contemporary artistic practices. Fletcher asked artists how their experiences shape their artwork, and like the handbooks by ancient philosophers, how their artwork communicates life lessons. Come Along With Me brings together a selection of OAL artists at different phases of their careers and lives."
FEATURED ARTISTS
Donald Black Jr.
,
Shaker Heights | Mary Jo S. Bole, Columbus | Peter Clay, Gilboa | April Deacon, Wheelersburg | Curtis Goldstein, Columbus | Charisse M. Harris, Akron | Angela Jann, Columbus | Dan Jian, Columbus | Suzan Kraus, Newbury | Yana Mikho-Misho, Twinsburg | Sharon Mohler, Yellow Springs | Kellie Morgan, Columbus | Jenniffer Omaitz, Kent | Boryana Rusenova-Ina, Columbus | Kim Schoel, Lakewood | Ann Corley Silverman, Columbus | Adrian Waggoner, Columbus | Kimberly M. Webb, Columbus
---
---
---
---
---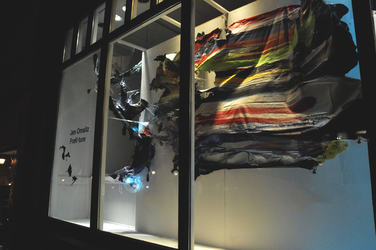 FraK•ture (Kent, OH)
FraK•ture is the latest artwork in a series of sculptures and paintings titled, Above Ground, Beneath the Surface. In this series of work I try to expose certain attributes in a two-dimensional and a three dimensional state that explore ideas of discontinuity, fragility, and geographical stress. In this current installation, I merge the surface of paint (as an actual object) into a state that is morphing from liquid to solid and then separating. The paint is transformed from a general brushstroke to an idealized landscape displacing our sense of mark. The medium (paint) is left as an object; remnant of its former state. Paint is then torn from its usual connotations, being on canvas or construct, thereby allowing the media to discover its current environment and viewer to engage in the same experience.
---