OHIO, KENTUCKY, & INDIANA Regional Showcase at Manifest Gallery
2/26/2021
Opening next Friday at Manifest Gallery in Cincinatti, Ohio. Very excited to be exhibiting with these amazing artists:
Kevin Gardner, Lee Heinen, Ron Isaacs, Ellen Lyon,Kathleen Pahl, Robert Pulley, Emil Robinson, Julio Cesar Rodriguez, Barbara Triscari, McCrystle Wood and Melissa Lusk


---
New Show in March 2021
2/6/2021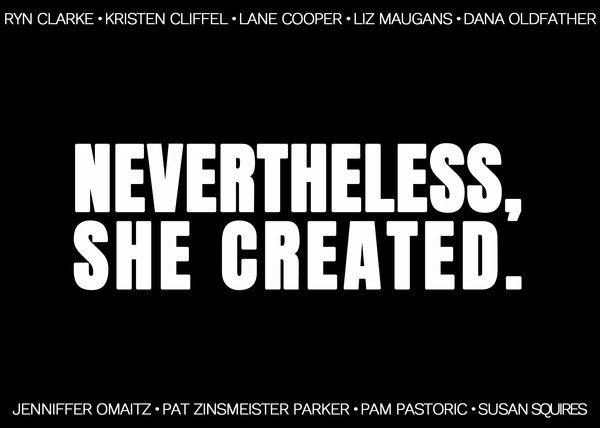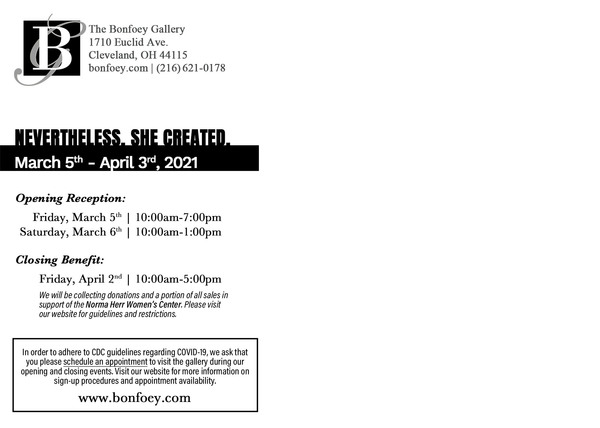 Very excited to announce an upcoming show at Bonfoey Gallery in Cleveland, "Nevertheless, She Created". Up for the duration of March and beginning of April. This show focuses on a small selection of North East Ohio Female artists that are working through a complex series of issues and process in their work.

The opening of the show will take place on Friday, March 5th from 10:00am-7:00pm. The gallery is limiting the number of people in the gallery to 10 at a time, offering 1 hour time slots where patrons can enter. You can also sign up at this link:
https://www.eventbrite.com/e/nevertheless-she-created-tickets-139533866551
---
Studio Production
1/23/2021
Last year was challenging and very difficult in terms of the COVID-19 pandemic for people throughout the world. It was also challenging on a personal level with trying to curve my time to make new works in the studio and teach in an online format. In June of 2020 I found a new cadance and practice to invigorate my studio routine tha injected new hope and inspiration into my process.

I teach part time between a couple Universities and try to keep a balence in my studio with production. I am paid very little for the time I put into classes and try to make up for that with being creative on many fronts. One of the things this pandemic has forced me to reconcile is a routine between working and studo life. This year I've been working dilligently to create new work so that I can accomplish this balence and grow my practice in new ways that invigorate all other aspects of my life.

So, I have started a new series of work that is filled with awkward balences, bright colors, and an alternating sense of perspective that is topsy turvy, awkward, not really grounded. This new work is reflective of the balence, or lack there of, that is present in my life and possibly the life of many others because of the pandemic. Bright colors symbolize hopefulness, idealism, and possibiliy, with gesture and painterly marks representing the human touch and dance in a confined surface.

Frequently my 2021 page for paintings will have updates with new works. My Instagram page @jennifferomaitz will have updates on things happening live in the studio. The goal is to move forward, evolve and strive for better work. So, please join me in this new direction, check out my updates on this platform and social media. Interaction is ecouraged!

Thank you for your continued support.

Jen


---
New Work for 2021
1/14/2021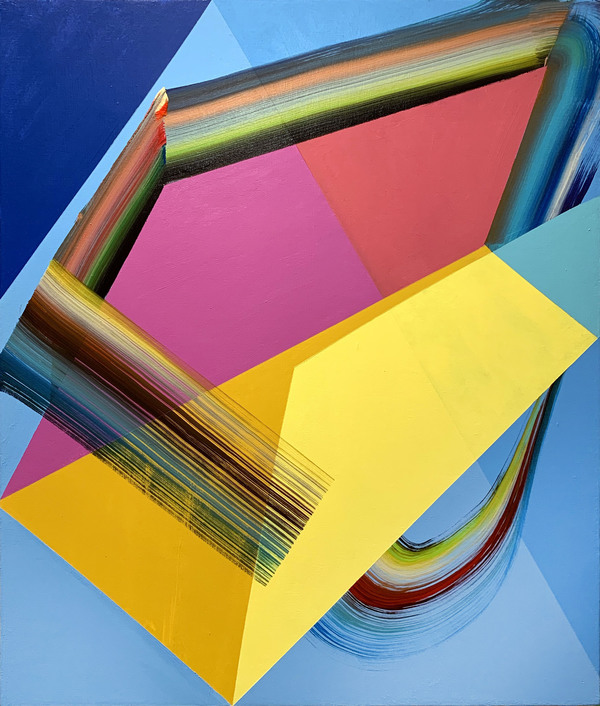 Working in the studio a lot early this year in preparation for a new body of work. Several pieces towards the end of 2020 and early 2021 have been finished. You can view them under my painting 2020 and 2021 tabs. These will be updated as soon as new works are finished.